SISTERS, WELCOME!! 
---
A gentle flicker of a warm fire illuminates this sacred space. It is here, under a canopy of stars, where we will share the timeless secrets and wisdom that have graced our hearts throughout our own profound journeys.
This is no ordinary gathering!! It is a circle of sisters who have walked a path similar to your own. We are here to stand beside you, so you don't have to travel alone.
We invite you to feel the warmth of this community, as our stories wrap around you like a cozy blanket on a crisp autumn night. Imagine sipping rich, velvety hot chocolate by a crackling fire as the starlit sky casts its spell upon you.
You are safe here.
THE EVERGREEN MASTERCLASS LIBRARY CONTAINS OVER 25+ HOURS OF UNIQUE HEALING TALKS DESIGNED TO CARRY EACH WOMAN THROUGH HER OWN HEALING JOURNEY.
Included with Purchase!! Date changed to November 10th at 10AM PST.
You are cordially invited to join us for a truly magickal and transformative live Zoom call dedicated to healing the sister wound.
In a world that sometimes encourages competition over connection, it is essential to mend any emotional wounds we may carry towards our fellow sisters. This sacred gathering promises to be a powerful journey of self-discovery and sisterhood, where you'll find support, understanding, and a profound sense of unity.
Together, we will embark on a mystical remembering, nurturing the bonds that tie us together as women, and uncover the strength that lies within our collective spirit.
Anni Daulter and Fernanda Parra will guide us through the alchemy of sisterhood, mend the pains that separate us, and celebrate the magick that lies within us all.
DATE: 11/10/2023
TIME: 10AM PST
ZOOM LINK: Included in course list under "Healing the Sister Wound"!
WHATS INCLUDED
The Evergreen Masterclass Collection is designed exclusively for the phenomenal women of today. It's time to heal your mind, rejuvenate your body, and nourish your soul.
WHAT AWAITS YOU?
- HEALING THE SISTER WOUND Live Zoom Call on October 30th, 2023 at 10AM PST hosted by Anni Daulter and Fernanda Parra. 
Anni is an old ways witch, worldwide treasure hunter, mama, author, food stylist, soul home designer, frequency medicine advocate, and she holds women's retreats in breathtaking locations around the world.
- CONTINUED SUPPORT for One Year Included after Purchase via a Women's Circle that will be held monthly via Zoom Calls with the speakers!!
- HEALING THE MIND: Dive deep into the realm of determining your authentic purpose and path, mindset transformation practices, meditations and talks on emotional wellness. Our Masterclasses will equip you with the tools to release past traumas, overcome self-doubt, and embrace the power of a resilient mind.
- REJUVENATING THE BODY: Experience holistic wellness techniques as you explore practices designed to revitalize your physical body and enhance your overall wellbeing. Discover the secrets of trauma release, vitality, positive body image practices, and how to calm your nervous system.
- NOURISHING THE SOUL: Connect with your inner child and passions as we explore how to align your life with your true authentic self. These Masterclasses will help you find spiritual balance, peace, and help you explore your true potential as you learn to pivot towards the life you always dreamed of having.
WHAT YOU'LL LEARN
MASTER YOUR MINDSET: Learn to harness the power of positive thinking and manifest your dreams into the here and now.
HOLISTIC HEALTH: Explore physical embodiment practices, nutrition, and meditations.
SPIRITUAL AWAKENING: Discover the secrets to soulful living and embrace inner peace through self-love, an SRT Clearing, and numerology.
THE POWER OF PLANT MEDICINE: Explore the power of plants serving as our elders, and the importance of participating in ceremonial ways.
TRIUMPH OVER HARDSHIP: Embrace the wisdom of women who share advice on topics such as codependency, money wounds, and single parenting/divorce.
WHY CHOOSE OUR MASTERCLASS COLLECTION?
A CONTINUATION OF THE EVERGREEN EXPERIENCE via Monthly Zoom Calls: Connect with us monthly where we can join in circle and support one another through continued access to the speakers.
GLOBAL COMMUNITY: Join a diverse group of incredible women from around the world and get to know us personally through this portal and beyond!
HEART-LED INSTRUCTORS: Learn from wonderful instructors and experienced mentors who are passionate about guiding women just like you towards your highest potential!!
Meet the Women 


We come from humble roots and have grown to a worldwide community of women who seek to raise awareness on mental health and healing the spirit.
Buy Now
Anni Daulter
Healing the Sisterhood Wound - Live Zoom
It's time to really clean up the sisterhood wound. 
Historically women have been patterned by patriarchal structures and competition mindsets to try to out-do each other. There are deep roots as to why and we want to explore & expose those stories. 
We have been told that if we dare to acknowledge another woman's genius, somehow we won't shine as bright...that could not be more untrue. 
Women have trust issues with each other and rightfully so, there are deep wounds that have not yet been fully stitched up, and while we are making progress, there is still a long way to go. 
Join us on a sacred journey to re-code a brand new frequency for the sisterhood collective, where we sit with ease in community, raise each other up, and celebrate our uniqueness. 
We are inviting you to come to a potent potent ritual on un-creating the sisterhood wound and weaving a way forward. 
Join Anni Daulter & Fernanda Parra-Chica  on October 30th at 10am pst for a live zoom RITUAL on cleaning up the sisterhood wound! 
Please Bring: 
*one white candle 
*3 bay leaves 
*a small bowl of sea salt 
*a small bowl of water 
*a small empty bowl 
*s small crystal or stone
Instagram: @anni_daulter
Fernanda
Healing the Sisterhood Wound - Live Zoom
Fernanda will be joining Anni Daulter in co-hosting the Live Zoom call event for Healing the Sisterhood Wound on October 30th at 10AM PST.
Please Bring: 
*one white candle 
*3 bay leaves 
*a small bowl of sea salt 
*a small bowl of water 
*a small empty bowl 
*s small crystal or stone
Instagram: @her.flowering
Sweet Annie
The Silver Lining: Living an Extraordinary Life Through Self Love
In a relatable conversation, Sweet Annie shares her hard-won lessons on the art of self-love advocacy.
Through the prism of daily rituals, Annie orchestrates a metamorphosis of the mind, body, and relationships, guiding you towards living a life you genuinely wake up to CHERISH.
Discover how to:
Authentically live a life that is true to who you are

Surround yourself with people and environments that bring you JOY

Unearth emotional scars and mend them with a glitter salve of self-compassion

Vanquish limitations that keep you stuck in autopilot or trapped in situations that keep you miserable

Quell the inner critic, and weave an impenetrable shield against negative self talk

Craft a sacred habit of ritual, awakening each day with empowerment, inspiration, and a zest for life that ignites your spirit

Practice boundaries to elevate your experience and rid your life of stress-inducing energy

Make the shifts that are necessary to live a life you unapologetically adore!!
This candid talk embodies the wisdom Annie needed during her most challenging moments, offering a roadmap for dismantling patterns that keep us stuck in unhappiness, and paving the way for you to embrace the ACTUAL life of your dreams!
Instagram: @sweetannie.love
Cindy Van Arnam Understanding Your Divine Timing Rhythm through Egyptian NumerologyThere are 6 stages to the Law of Divine Timing (aka Manfestation cycle) and each of us carries our own personal rhythm within that cycle.  Discover the 6 unique stages within your own personal rhythm based on Egyptian Numerology that will support you in: ❤️ More ease and flow❤️ Reduced anxiety❤️ Comfort in the unknown spaces of creation❤️ No more self-sabotage Instagram: @vanarnamcindy 
Tracy Montgomery 
SRT Clearing: Stepping into Sovereignty (Energy and Akashic Clearing)
STEPPING INTO SOVEREIGNTY : ENERGY CLEARING Are you sick and tired of feeling powerless in your life and feel a deep yearning within you to step into a new level of Empowerment and Sovereignty? 
This Energetic Group Clearing blends together the potency of SRT, Akashic Records and Intuitive Guidance to offer a deeply healing experience designed to ignite your evolution into the Empowered, Sovereign Woman you are destined to become!  
Value: $222 
Instagram: @tracy.montgomery_
Bridie Allen
A Parasympathetic Approach to Healing - Masterclass and Practice
A Parasympathetic Approach to Healing 
A transmission on how the nervous system can impact your healing journey and how to access a relaxed state. 
A guided visualisation to help you access a deeply relaxed nervous system. 
Instagram: @bridieallen_
Aurelia Fure
Uninitiated Youth: Master Visionary Plant Teachers as Elders and the Importance of Ceremonial Ways
Come on a journey of resilience. The Uninitiated Youth is a direct transmission of Aurelia's relationship to visionary plant teachers, shamanic practices, & ceremonial ways. Moving from the uninitiated and allowing Earth Mother & her gifts to become Aurelia's initiator onto the road of self mastery. 
Instagram: @loveaureliafure
Andromeda of Earth
Meeting of Your Cell-f: Quantum Exploration Timeline Jump & Guided Meditation
Andromeda guides you on a journey to the next available version of yourself, shifting the trajectory of your current timeline. Through the observation of breath, sensation and visualization, you are invited to go deeply within to receive the messages your body is ready to share. This guided meditation not only curates your reality, it also highlights and transforms your relationship with time, your cell-f and the present moment.
Instagram: @andromedaofearth
Moonching Wu
Life, the Universe, and Everything w/Moonching Wu
Moonching was born & raised in Taiwan. She has studied Chemical Engineering, holds a Bachelors in Fine Arts, Masters of Science (Traditional Oriental Medicine) Hypnosis Therapy, Dream therapy. When she is not traveling, she resides in the Catskill Mountains of NY where she makes art, creates plant & mushroom based medicine, works with patients. Her current soul intention is to translate and transmit ancient Chinese wisdom to English speaking cultures.
Instagram: @moonchingwu
Bruriyah
Trauma Informed Manifestational Arts
Bruriyah's passion and mission is to uplift the collective through financial empowerment and wealth mastery. She is particularly passionate about the intersection between the manifestational arts, trauma, psychology and practical money mastery, and aims to support folks in healing their money wounds in support of the manifestation of their grandest visions and dreams.
Instagram: @bruriyah
Dr. Kayla Abeid
Radical Reclaimation: Mastering the Divine Feminine Boundaries
In this powerful session, discover the art of establishing and maintaining healthy boundaries through a divine feminine awakening perspective. Embrace your authentic self — tap into the essences of sensuality, power, intuition, and worthiness, all while also integrating the codex to creating and honoring boundaries in this season of life expansion.
Includes Downloadable Divine Feminine Boundary eWorkbook PDF
(Value $388)
Instagram: @drkaylaabeid
 Em Strong
Intuition Illumination : Alchemy Into Action! 
Intuition Illumination is your key to unlocking the magic within and stepping into a life guided by your inner wisdom. Say hello to a future illuminated by your intuition. She's waiting. She's here. And ready to transform your life in the most amazing ways. Get ready to listen!
Course valued at $222
Instagram: @thedivinemiss.em
Naomi Maharaj
Transmuting the Beauty Image Wound: Reprogram, Ritualize + Release for a Life of Deeper Freedom Within and Without
In this class, we will begin to reprogram +upgrade our subconscious body image and beauty stories, so we may live a life of deeper harmony and coherence with our sacred temples, our BODIES. in a world where so much value is placed on our appearance, we come together to nurture new relationships to our sacred bodies with a deep inner knowing of a birthright we each carry, our true BEAUTY!  
(value $111)
Instagram: @naomi.das.aguas
Maria José (Gala)
Healing Through Divorce and Coparenting
Gala was born in Costa Rica and she is a mom of 2 boys, a Waldorf teacher and a life a coach.
She also works with frequency devices and is the founder of the Medicine Woman Collective.
In her talk she empowers women who are walking through the journey of divorce or coparenting so that they are able to do so with grace and ease.
Instagram: @maria.jose.gala
Oriana Fitzgerald
Intro to Womb Cosmology
Discover the multidimensional portal that resides within.
As we see ourselves reflected in the cycles of the Earth Mother & the Cosmic Mother, we refine our consciousness & the relationship to our own divinity.
Womb cosmology is the study of the interconnectedness of all things, and the intrinsic connection between personal and planetary healing. As womb consciousness returns to our world, we reconnect with the infinite potential of our Power Chakra - the potential to birth new realities
Instagram: @orianafitz
Krystelle
Losing & Reclaiming My Voice: The Healing Power of Music
Krystelle delves into the fascinating neurobiology of how music engages various regions of our brain, effects our emotions, & even influences our physiological responses. You'll get to experience the healing power of music with a musical performance created just for this course. Finally, you'll receive practical music protocols backed by scientific research to achieve each of the following:
👉 develop neuroplasticity
👉 generate motivation
👉 heighten concentration & focus
👉 increase happiness
👉 process sad emotions
👉 reduce anxiety
👉 improve daily physical & emotional well-being
Instagram: @thekrystelle
Simone Akasha Nofel, M.Ed.
Healing Ancestral and Generational Trauma
Healing Ancestral & Generational Trauma is journey through understanding how embracing your 'wild' side can ignite deep transformation for you and your entire lineage. Unload the baggage you have been carrying around that is not yours to carry. Discover how the Earth, movement and play can heal bloodlines with only intention and effort!   
Instagram: @simone.akasha
Hope Evans
Healing Through the 80/20 Lifestyle
Join Hope as she discusses how she healed her relationship with food through the 80/20 lifestyle. Learn how to stop shaming, blaming and feeling guilty for eating your pleasure foods. 
Take a deep plunge into how to celebrate your body, self-worth & boost your confidence through learning how to balance a healthy lifestyle.
Instagram: @realisticallytoxinfree
Ava Verity
Sovereignty: Practical Ways to (re)Claim Your Body, Energy, and Life
Ava shares her gnosis of law, lifeforce, and liberation for the journey to holistic sovereignty in healing from Codependency and Codependent behaviors. She is dedicated to helping others feel alive physically, spiritually, and lawfully through stepping out of the need to caretake or rescue other people. In this class she teaches how to apply your energy inward to heal.
Instagram: @ava.verity
Emily
Quantum Healing Session
Emily Režek is a Quantum Healing facilitator, herbalist and artist located in Northeast Wisconsin, USA. She is passionate about holding space for people to heal themselves. Quantum Healing is a modality that makes it easy and fun for this to happen. Join her on this journey through the Quantum Field where all is possible and everything blocking you from the life you dream of is revealed and released.
Instagram: @the_angelica_galaxy
Lindsay Courcelle
Myofascial Healing
Myofascial Care for the Pelvic Bowl: Spiraling Down Under
 This class has 3 modules, each with 2 audio or video lessons. Each module includes a teaching lesson where I describe the theory and techniques, and a guided lesson of hands-on practice. 
 Module 1: Myofascial Uterine alignment and external self-care
Module 2: Internal Pelvic Self-Care
Module 3: Bony pelvic alignment
 In this course you receive the why and how to caretake your pelvic bowl internally and externally through guided self touch and my favorite myofascial release techniques. If you desire to connect deeply with your body, heal stagnant or stuck energy, and harness the feminine power that spirals within this sacred site of your body, then this course awaits you.  
(Value $275)
Instagram: @lindsaycourcelle
Molly Grace
Hearth Tending
Cultivating the Energy of a Well-Tended Hearth in Your Home
Join Molly as she shares about the practice of hearth-tending. We will explore what it means to tend your hearth, why it's important, and how to cultivate the energy of a well-tended hearth in your home.
Instagram: @the.well.tended.hearth
Samthebodyworker
Let Movement Be Your Guide: A Journey to Embracing Freedom of Expression and Deeper Embodied Connection to Self
In my course I will be discussing how to use movement and freedom of expression to release trauma within the body. My offerings can be found on my website as well as my shop featuring my intentional creations. I would be honored to share space with you so please don't hesitate to reach out or send me a dm & a follow on Instagram!
Instagram: @samthebodyworker
Donna Hayes
Reclaim Your Sacred Power with the Sacred Fire Method
Transformational Practices to Release Your Patterns of Powerlessness, Unleash Your Sacred Fire Goddess, and Reclaim Your Sacred Power
In this powerful masterclass, we dive right in together and liberate the divine wildness within as I guide you through some somatic, energetic, & emotionally expressive movement practises from my SACRED FIRE Method. 
This supports you to release your patterns of powerlessness, unleash your SACRED FIRE goddess, and reclaim your SACRED POWER. 
My SACRED FIRE sees your SACRED FIRE… let's go 💃🏼🔥
Value $222
Instagram: @donnahayes_sensitivelystrong
Sarah Vaughan
7 Pathways to Reconnect with Nature and Yourself
7 pathways to reconnect with nature and yourself, invites you to step into the lush green English countryside and melt away the stresses of everyday day life. 
Sarah will gently support you through a virtual eco therapy session, taking you on a journey into some beautiful spaces where you can experience deep nature connection and allow yourself the opportunity for stillness, calm and reflection. 
She also offers lots of tips on how you can incorporate nature connection in your own life, improving your health and wellbeing every single day. 
Bring a journal, a pen and some drawing materials and get ready to experience a totally different type of holistic therapy. 
(£125 value)
Instagram: @rewild_your_soul
Jenna
Healing Through Birth 
Releasing Programs of Disconnection and Weaving Ceremony into Birth
Join Jenna and dive deep into the root of where the programs of disconnection began and how women are choosing ceremony and coming back into connection with their bodies through the rite passage we know as birth and motherhood. This talk is for all women, no matter how you gave birth, from the c-section mamas to the freebirth mamas and everyone in between. For those who have yet to embrace motherhood, this talk will begin to clear away the outside narratives that serve to separate us from seeing how powerful and capable our bodies are, and how beautiful birth truly is.
Instagram: @tendher.wildroots
Iunia Mihu
Dear Inner Child
Create Connection and Healing Through Writing
The connection with our inner child is an important base line in life. "If we are disconnected from our inner child, we are also disconnected from life", Iunia says. By building the connection with your inner child, you have the possibility to heal old wounds, to access and express your soul gifts more freely and to feel whole within yourself. Writing is a beautiful tool to build that connection. 
Why writing? Writing is a form of listening. When we write we access parts of ourselves that are dormant or silent. When we write, we weave together words. Words become sentences and eventually the sentences become the stories that we carry within ourselves. In this Masterclass, Iunia walks you through different writing techniques that will help you create a connection to a younger version of you.
($111 Value)
Instagram: @talk.to.iu
Kate Smith
Cosmically Aligned Nutrition
Kate found her way to her endlessly unfolding health adventure after a decade of unraveling inhibiting autoimmune symptoms.
Believing in the deepest caverns of her heart that there had to be a better way, she removed herself from conventional practices and journeyed into a fervent passion for plant-based wellness & energetic healing that continues to mature into an ever-deepening love of revitalizing Humans and the Earth from within.
Join Kate as she walks you through a nourishing talk on healing the body through nutrition.
Instagram: @disheveled_shaman
Marialicia (pronounced Mah-dee-ah-lee-sia) González
Grief: Your Wondrous Well of Wisdom
Standing at the doorway of life and death is what she is made for. 
Marialicia  gracefully bridges the gap between the medical model and the natural world. Marialicia founded Daraluz Wisdom where she offers individual and group in-person and virtual classes for pregnancy and beyond. In her talk she walks us through grief and all its beautiful wisdom.
Instagram: @marigonzalezwriter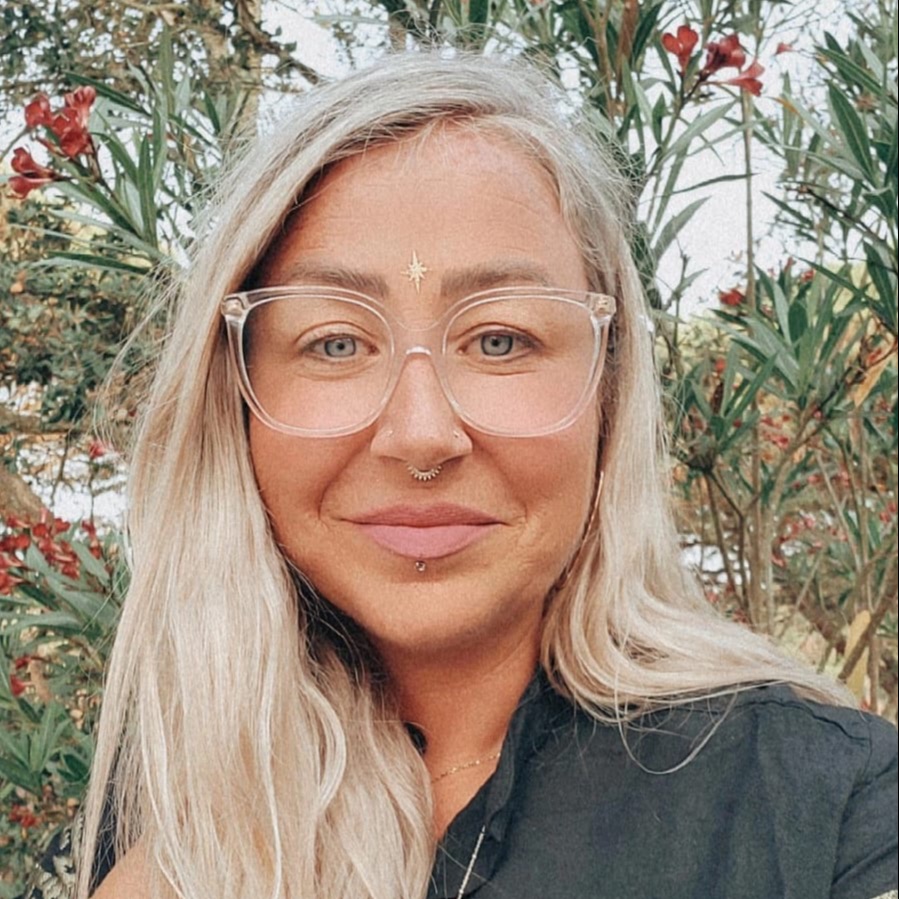 Krissy Streeper
Nourish Your Soul, Self, and Sisterhood with Yoga Nidra 
Krissy has been studying Yoga Nidra for over 15 years, and I have been witnessing and holding sacred space for women for over 10 years.

She believes with the practice of Yoga Nidra, combined with ritual and ceremony, we can arrive deep within our hearts, and connect heart to heart with Mother Earth.

Krissy is here to sit with you as a guide, sister and mentor, to allow for these experiences to land in your own silence, where your inner teacher truthfully speaks, and where you can hear your hearts true knowing.
Instagram: @kstreeps
STEP INTO THE PORTAL!!
---
Join the Evergreen Collective and become part of the Evergreen Women's Circle to discover the magick within!
GAIN ACCESS to 25+ hours of content, plus continued connection with the women speakers via monthly zoom calls for the next full year, as well as access to connecting with them through their social media pages and personal offerings.
Join Now